Immersive Stage ( 2nd to 4th of July):
One of our assets, in comparison to a regular summer school, consists in our 3-day immersion in a top-level european hospital or laborotory. Each of these health centers specialises in its own field of research. Candidates to the ClinMed summer school will be asked to choose one of these themes and therefore, a location.

The selected participants will need to travel to the health center of their choosing in either France, Germany, Sweden or Portugal to live a 3-day immersive experience, where they will meet with healthcare professionals, patients, researchers and perhaps even company leaders, in order to understand and work on unmet needs that require technological innovation. More information here.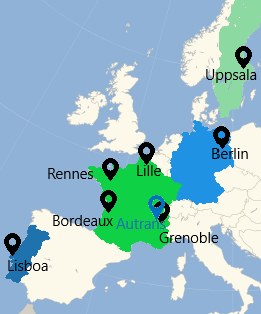 Intensive course (July 4th to 12th):
Following the immersion stage, all participants will then meet up at the main site of the Summer School in Autrans, a village located in the French Alps near Grenoble, to develop their projects through conferences and coaching on the tools used in the development cycle of a medical device. These courses will beprovided by academics and industrialists. Trips towards Autrans from the nearest airports or train stations to the hosting healthcenters will be organised by ClinMed.

The Manoir aux Lauzes that will be hosting the immersive experience is located at:

AFRAT - LE MANOIR AU LAUZES
314 Chemin du Manoir
38880 Autrans Méaudre en Vercors